Family Lawyers Sydney
O'Sullivan Legal is comprised of professional, proficient, and tenacious family lawyers in Sydney that put the needs of our clients at the forefront. As the premier family lawyers in Sydney, we engage a wealth of experience and capability to facilitate an optimal endgame for your case.
We understand the imperative that each client has a slightly varied set of circumstances and variables that impact cases in different ways. In our minds, effective representation is not simply a matter of being the most knowledgeable divorce lawyers, the most communicable partnership mediators, or the most studious family lawyers in Sydney – but a matter of utilising the breadth of our expertise across ALL facets of familial law to ensure our clients are never on the back foot throughout proceedings.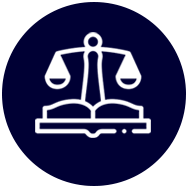 WE STAND BY YOUR SIDE
When you solicit O'Sullivan Legal, you're represented by the family lawyers in Sydney that will comprehensively support you and your needs.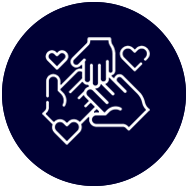 EXPERIENCED EXPERTISE
A wealth of experience in all aspects of familial legislation.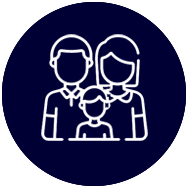 THE BEST INTERESTS OF THE CHILD FIRST
Our divorce lawyers adopt & uphold a strong ethical focus on the predominant needs of children.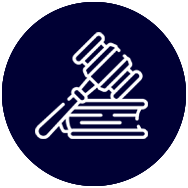 WE ARE PUNCTUAL AND RELIABLE
Our clients are our main priority. When you are represented by O'Sullivan Legal, you have our immovable attention.
We make things easy, efficient and worry-free.
Talk to us today.
What We Do
As comprehensive family lawyers in Sydney, we'll help you navigate the path forward, so you can put this chapter of your life behind you.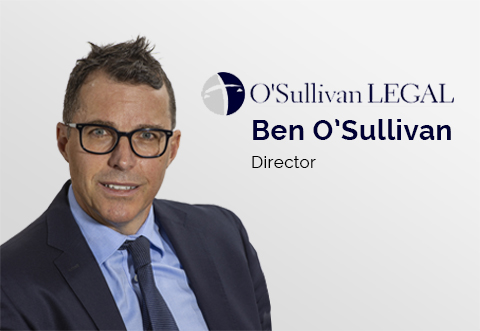 Ben O'Sullivan
Director
Ben O'Sullivan is an experienced lawyer who holds a Masters of Applied Family Law. Ben is passionate about pursuing justice for his clients.
Prior to starting O'Sullivan Legal, Ben worked for a leading specialist family law firm in Sydney, and represented clients covering property and children's matters in family law, and matters in the child-care and protection jurisdiction in New South Wales. Ben has gained further experience working as a criminal defence lawyer and is now undertaking a Master of Laws (Criminal Practice) at Wollongong University.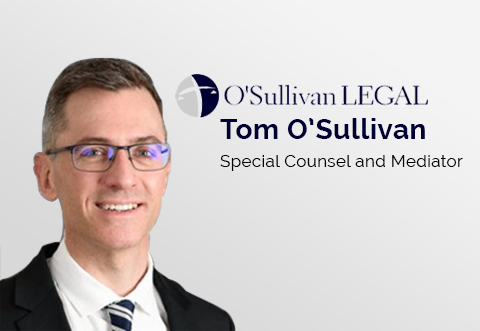 Tom O'Sullivan
Senior Solicitor | Chartered Tax Advisor | Nationally-Accredited Mediator (NMAS) | Family Dispute Resolution Practitioner (FDRP)
In his legal practice, Tom helps clients resolve their family law disputes (involving parenting, property, and/or spouse maintenance issues), family provision concerns and tax issues. Ideally, this is done by achieving a lawyer-assisted, negotiated outcome, but may sometimes involve litigation. Tom is also trained in collaborative law and works with clients to reach a settlement without the stress of going to court.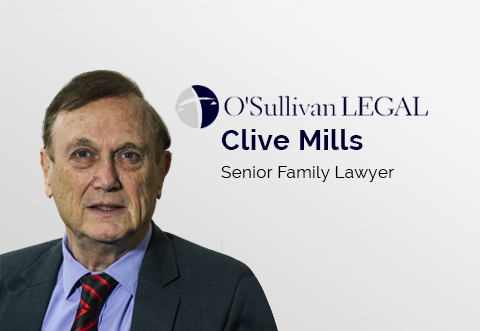 Clive Mills
Senior Family Lawyer
Clive Mills is an experienced solicitor and Notary Public with over 30 years' experience in family law. Approachable and caring to clients, Clive places emphasis on attention to detail.
Clive qualified as a solicitor in England in 1980, practicing in Family Law, Property Law, Commercial Law, Conveyancing, Wills & Estates, Insolvency and Litigation before moving to Western Australia in 1989, where he soon established his own thriving suburban practice. He re-established his own legal practice in St Leonards after moving to Sydney in late 2001.
Local Sydney Divorce and
Family Lawyers
At O'Sullivan Legal our legal team will work with you to gain an in-depth understanding of your unique situation and apply our detailed knowledge of family law to provide you with easy to understand legal advice setting out your options and appropriate strategies. If you are represented by us, at all stages you will be able to make informed decisions in relation to the next steps you undertake.
No two family law matters are the same. Applying our knowledge and practical experience we will devise a roadmap for you.
Best Family Lawyers Sydney
We are recognised as the top and best family lawyers in Sydney by BestInAu and ThreeBestRated. We do our best to provide you with professional legal services. The types of issues we are asked to provide our client's family law legal advice about includes the following:

Leave Blank
Do I Need Representation? I Haven't Done Anything Wrong
If you have been served with a subpoena or legal documentation of that nature, the best course would be to solicit the services of a firm like ours. Even if you believe you have done nothing questionable, we can provide advice on the optimal path forward and represent you if processes continue.
How Much Will This All Cost?
We endeavour to make our services accessible to anyone who requires it. We'll always try to provide rates that are not unreasonable. In your initial meeting we will be happy to discuss your particular situation.
How Long Will My Case Take?
Each case is dependent on the variables therein. As such, it is not always easy to give a concrete timeframe until we understand the breadth of your particular situation. We are known for efficiency, so rest assured we will do everything we can to ascertain a result in as little time as possible.
Leave Blank
What Documents Will I Need To Have To Formally Apply For A Divorce?
To begin the process of divorce you'll need a copy of your marriage certificate, proof of citizenship (if applicable), and identification.
Is There A Way To Determine How Much Child Support I'll Be Paying/Receiving?
There are calculators available online, the
Services Australia Calculator
can give an approximate estimate – however, as it is not an exact science and is determined case-by-case, the resulting amount could differ.
Does Hiring A Family Lawyer Mean I Have To Go To Court?
Not necessarily, our services are not limited to representation in the courtroom. We represent clients in advisory and mediatory capacities. Hiring a family lawyer does not indicate further action can/will be implemented as a result. Oftentimes, family law cases can avoid courtrooms with competent mediation and discussion with legal representatives and parties present.
Leave Blank
Can You Help Me With Overturning A Decision Made In Family Court?
Yes we can. If a decision is made in family court you will often have a window of time to apply for an appeal which we are more than capable of overseeing.
What Is The Difference Between A Divorce & Separation?
A separation refers to one party in a relationship deciding to end said partnership and alerting the other party of this decision. Separations can still occur whilst both parties are still living together as long as the intent has been communicated. A divorce is the legal and formalised dissolving of marital status.
Is Child Support The Same As Spousal Maintenance?
No, child support payments refer to required funds being paid to ensure proper and adequate care is given to the child (school fees etc.) whereas spousal maintenance refers to monetary compensation for parties in a relationship breakdown that are unable to support themselves or maintain their lifestyle adequately.
We make things easy, efficient and worry-free.
Talk to us today.

Suite 15, Level 2, 123 Clarence St, Sydney NSW 2000
Copyright © 2013 – 2022 Family Law Legal – O'Sullivan Legal. All rights reserved. Website and SEO by SEO Shark – the leading SEO Agency in Sydney.