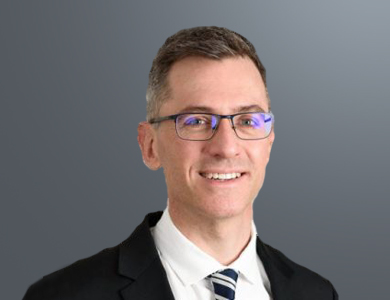 Tom O'Sullivan
Senior Solicitor | Chartered Tax Advisor | Nationally-Accredited Mediator (NMAS) | Family Dispute Resolution Practitioner (FDRP)
Senior Solicitor
In his legal practice, Tom helps clients resolve their family law disputes (involving parenting, property, and/or spouse maintenance issues), family provision concerns and tax issues. Ideally, this is done by achieving a lawyer-assisted, negotiated outcome, but may sometimes involve litigation.
Tom has extensive, practical experience having worked previously as a senior lawyer and consultant in both the private and government sectors, where he also managed teams.  
Tom is a Chartered Tax Advisor with the Tax Institute: the preeminent professional body for tax advisors in Australia. He is also a Course Convenor and Assessment Panel Member with the Tax Institute; a sessional law lecturer at Macquarie University; and is extensively published in leading publications for legal and business professionals.
This unique blend of skills and experience means that Tom is well-equipped to assist clients with complex family law, property issues, involving structures (such as companies, trusts, and superannuation funds) and tax compliance issues. Further, he is uniquely qualified to devise binding financial agreements and consent orders in the family law context that are tax efficient.
Mediator
 In addition to being a senior solicitor, Tom is a nationally-accredited mediator, who assists clients to resolve their:
family law, parenting and property disputes
family provision and contested estate claims, and
workplace conflicts.
As a Family Dispute Resolution Practitioner (FDRP), Tom works with clients to mediate and resolve their family law disputes in a confidential, compassionate, and child-focused manner. Clients find that keeping the courts out of their family disputes, reduces stress, saves both time and considerable money, and most importantly, puts the needs of kids first.
Tom currently provides mediation services, and manages complex cases, at the Campbelltown Family Relationship Centre, and also in private practice. Tom can issue clients with "section 60I certificates", enabling them to approach the Family Court/ Federal Circuit Court for parenting orders, if required.
Sometimes family conflict also arises following the death of a loved one. For example, a person may believe they have been improperly left out of, or inadequately provided for, in a relative's will. Having completed postgraduate studies in family provision law, Tom also applies his mediation skills and experience to help resolve family disputes involving contested wills and family provision claims.
Additionally, Tom draws on his extensive experience in managing teams in the commercial sector, in conjunction with his mediation skills, to help organisations, HR personnel, and employees, resolve disputes involving workplace conflict (including interpersonal conflict within and between teams, bullying, harassment, and unfair dismissal). 
Tom has over six years' experience as a crisis counsellor with Lifeline, where he assisted individuals going through stressful life events (such as separation, divorce, grief, and mental health challenges (including depression and anxiety)) gain new perspectives. He has also completed postgraduate training in counselling and communication, and brings relevant skills from his counselling background to his mediation work to help clients effect change and resolve their conflicts, once and for all.
Tom does face-to-face mediations with clients, as well as online and telephone mediations, both nationally and internationally.
Tom's qualifications include:
Bachelor of Laws
Master of Applied Law (majoring in Family Law)
Bachelor of Commerce and Master of Commerce
Graduate Diploma of Family Dispute Resolution, and
Graduate Diploma of Counselling.
Tom has also completed Advanced Mediation Training with the Australian Institute of Family Law Arbitrators and Mediators.
Tom's professional designations are:
Solicitor of the Supreme Court of NSW
Chartered Tax Advisor (The Tax Institute)
Nationally-Accredited Mediator (NMAS), and
Registered Family Dispute Resolution Practitioner (Attorney- General's Department).
Tom is a member of:
The Law Society of New South Wales
The Resolution Institute
The Australian Institute of Family Law Arbitrators and Mediators
Association of Family and Conciliation Courts, and
The Tax Institute.
Contact Tom today for an appointment or confidential enquiry (+61 2) 8974 1566.
Address
Suite 15, Level 2
123 Clarence St
Sydney NSW 2000