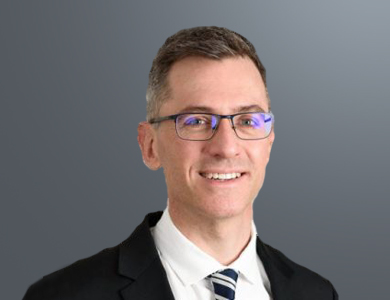 Tom O'Sullivan, Special Counsel and Mediator
Tom O'Sullivan completed his Bachelor of Laws and Bachelor of Commerce degrees at The University of New South Wales (UNSW) in 1998. He has postgraduate qualifications in Business, Law (with majors in both taxation law and family law), and Family Dispute Resolution.
Since admission as a solicitor in NSW, Tom has dedicated himself to the pursuit of excellence in the practice of both taxation law and family law. He has extensive, practical experience having worked previously as a lawyer and consultant in both the private and government sectors, where he also managed teams.
Tom is a Chartered Tax Advisor (CTA) with The Taxation Institute, and is extensively published in some of Australia's leading, legal publications for professionals, including the Australian Premium Master Tax Guide and the Australian Federal Tax Reporter. He shares his expertise as a sessional lecturer in law to postgraduate students at Macquarie University, and also at The Tax Institute. Tom is uniquely placed to work with clients to resolve their complex financial affairs following separation in a tax-efficient manner.
As a nationally-accredited mediator, and registered family dispute resolution practitioner (with the Attorney-General), Tom also works with parties to resolve their parenting and property issues without recourse to the courts, where possible. This saves clients time and money, and most importantly, puts the needs of kids first. Contact Tom today for a mediation appointment.
Since joining O'Sullivan Legal, Tom has assisted in providing taxation advice in family law matters; and has been heavily involved in helping clients with matters involving the Australian Taxation Office where issues have included:
tax fraud, tax evasion and crime
non-compliant directors' loans in matrimonial property proceedings
capital gains tax and superannuation issues following relationship breakdowns, and
complex taxation issues in family law.
Tom is also an avid believer in helping clients resolve their disputes without recourse to litigation, where possible. As a nationally-accredited mediator (National Mediator Accreditation System), Tom works with parties to resolve:
parenting and property disputes in the family law context
family provision claims
workplace disputes, and
disputes with the Australian Taxation Office.
Tom is able to share with his clients the benefit of his unique skillset and professional experience to provide you with real-world solutions.
Address
Suite 15, Level 2
123 Clarence St
Sydney NSW 2000