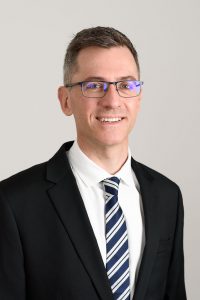 Tom O'Sullivan completed his Bachelor of Laws and Bachelor of Commerce degrees at The University of New South Wales (UNSW) in 1998. He has postgraduate qualifications in Commerce (with a Taxation Law specialisation at the Masters level), and Adult Education.
Since admission as a solicitor in NSW, Tom has dedicated himself to the pursuit of excellence in the practice of taxation law. He has extensive practical experience having worked previously as a lawyer and consultant in both the private and government sectors.
Tom achieved the Chartered Tax Advisor (CTA) designation from The Taxation Institute in 2012, and is extensively published in some of Australia's leading, legal publications for professionals, including the Australian Premium Master Tax Guide and the Australian Federal Tax Reporter (published by Wolters Kluwer – previously called CCH).
Tom shares his expertise as a sessional lecturer in law to postgraduate students at Macquarie University (and previously at UNSW); and also at The Tax Institute, where he is a Course Convenor in their Chartered Tax Advisor education program.
Since joining O'Sullivan Legal, Tom has assisted in providing taxation advice in family law matters; and, has been heavily involved in helping clients with matters involving the Australian Taxation Office where issues have included:
– tax fraud, tax evasion and crime
– non-compliant directors' loans in matrimonial property proceedings
– capital gains tax and superannuation issues following relationship breakdowns, and
– complex taxation issues in family law.
He is currently assisting with an appeal to the High Court on a complex family law matter.
Tom is a tenacious and assertive advocate, who stands up and defends the rights of his clients. He has tremendous attention to detail that is much-appreciated by those with complex tax and family law issues, who benefit appreciably from his assistance.
Tom is able to share with his clients the benefit of his lengthy and varied professional experience to provide you with real-world solutions.