Your Unwavering Ally in Delicate Family Law Matters
Every family story is different, set with its own unique challenges and emotional tribulations.
From the intricacies of divorce and separation to the delicate matters of child custody and property settlement, there needs to be a well-thought plan mapped out by a legal expert who's worked on dozens of these types of cases.
Our family law team know their fair share when it comes to family law issues and is here to untie these complexities. We'll make sure that every step, right from the initial consultation to the outcome, is strategised thoroughly and precisely.
With us on your side, we ensure your voice is heard, your concerns are validated, and your future is safeguarded.
Guiding You Through Every Facet of Family Law
Here at O'Sullivan Legal, we can help you with a comprehensive array of family law matters, including:

Parenting arrangements
When it comes to parenting matters, having the assistance of a legal maven is fundamental.
Our family law accredited specialists ensure that your child's best interests remain the top priority. We will work diligently to establish custody and visitation agreements that provide stability and security for your family's future.

Divorce & Separation
Divorce and separation is a mentally charged situation to be in. That's why getting the care and guidance of expert divorce lawyers can assure you that you get the best outcome out of the case.

Property settlement
The division of assets and property settlement can be contentious for both parties.
At our law firm, we bring a calm and strategic approach to these negotiations. Our goal is to secure a fair and equitable resolution for you, allowing you to move forward with financial confidence as you embark on this new chapter of your life.
MEET THE TEAM
At the heart of our practice lies an esteemed team of family lawyers, each with a distinct skill set and a shared commitment to providing exceptional legal support to our clients.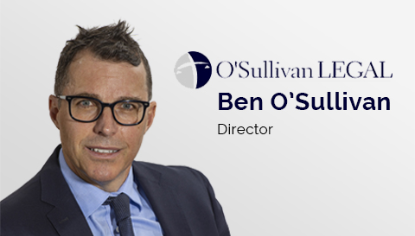 Ben O'Sullivan
Our director, Ben, merges his extensive legal knowledge with a deep-seated passion for pursuing justice for his clients. With a specialised focus on family law, his expertise is your ally in navigating through the complexities of your case.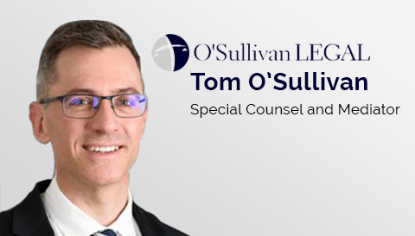 Tom O'Sullivan
As a Senior Solicitor and a Chartered Tax Advisor, Tom brings to the table a versatile skill set, enabling him to offer you personalised advice that spans various facets of family law, from dispute resolution to property settlements and tax issues.
GUARANTEEING YOUR FAMILY'S TOMORROW IS BRIGHT AND SECURE
Your family is a priority, which is why by having the right family lawyer on the case, you can make sure their futures are placed first.
At O'Sullivan Legal, we protect what matters most, enabling you to move forward with peace of mind and steadfast assurance in your legal representation.
Our family lawyers are more than legal professionals – they're your steadfast supporters in every legal step you take.
With an unwavering commitment to navigating you through the intricacies of family law, we ensure that you're not alone in this journey.
Speak to our North Sydney Family Lawyers today and take the first step towards finding not just legal solutions but a compassionate ally in your corner.
Frequently Asked Questions
Leave it Blank
What is family law, and why do I need a family lawyer?
Family law encompasses legal matters involving family relationships, such as divorce, child custody, and property division. You need a family lawyer to navigate the complexities of these issues, protect your rights, and ensure fair outcomes for you and your family.
How can I initiate the divorce process, and what are the grounds for divorce?
To initiate the divorce process, you typically need to file a divorce petition with the court. Grounds for divorce vary by jurisdiction but often include irreconcilable differences or specific fault-based reasons. A family lawyer can guide you through this legal process.
What factors are considered in child custody arrangements?
Child custody decisions prioritise the best interests of the child. Factors considered include the child's age, physical and emotional well-being, the ability of each parent to provide a stable environment, and the child's preferences (if age-appropriate).
How is property divided during a divorce?
Property disputes can be a contentious issue. It's often divided based on factors like each spouse's financial contributions, the length of the marriage, and the value of assets and debts. Mediation or negotiation may be used to reach a fair settlement.
What is the role of mediation in family law cases?
Mediation is a process where a neutral third party helps couples in conflict reach mutually acceptable agreements. It can be used to resolve issues related to divorce, child custody, and property division, often saving time and costs compared to litigation.
How long does it take to finalise a divorce or family law case?
The time it takes to finalise a case varies widely depending on its complexity, court backlog, and the parties involved. A straightforward divorce can take a few months, while more complex cases may take longer. We can provide an estimate based on your situation.
What are the alternatives to going to court in family law matters?
Alternative dispute resolution methods such as mediation, collaborative law, and arbitration can help resolve family law disputes without going to court. These approaches often promote more amicable solutions and can be less stressful.
What steps should I take to prepare for a child custody evaluation?
Preparing for a child custody evaluation is crucial if it's part of your family law case. A child custody evaluator assesses various factors to determine the custody arrangement that is in the child's best interests. To prepare effectively, consider seeking guidance from your family lawyer and be ready to provide relevant information about your parenting abilities, relationship with your child, and living situation.
What are the costs associated with hiring a family lawyer?
Family lawyer fees vary depending on the complexity of the case and the attorney's rates. At O'Sullivan Legal, our lawyers offer initial consultations at no charge, and you can discuss fees and payment options during this meeting.
Can I modify child support or custody orders in the future?
Child custody and support orders can be modified if there is a significant change in circumstances, such as a parent's relocation or a change in financial situation. Consult with our family lawyers to determine if your situation qualifies for modification.
What legal rights and responsibilities do couples in de facto relationships have under family law?
A de facto relationship, where couples live together in a genuine domestic partnership without being married, often carries legal implications. Family law may recognise these relationships and grant rights and responsibilities similar to those of married couples. It's essential to understand how family law applies to de facto relationships, including issues such as property division and financial support.
What are consent orders in family law, and when should they be considered?
Consent orders are legally binding agreements reached between parties in a family law case, typically without the need for court intervention. These orders can cover various aspects, such as child custody, visitation, property division, and financial support. Understanding when and how to pursue consent orders can help streamline the legal process and provide clarity on important family law matters. A family lawyer can guide you through the process of creating and filing consent orders when they are appropriate for your situation.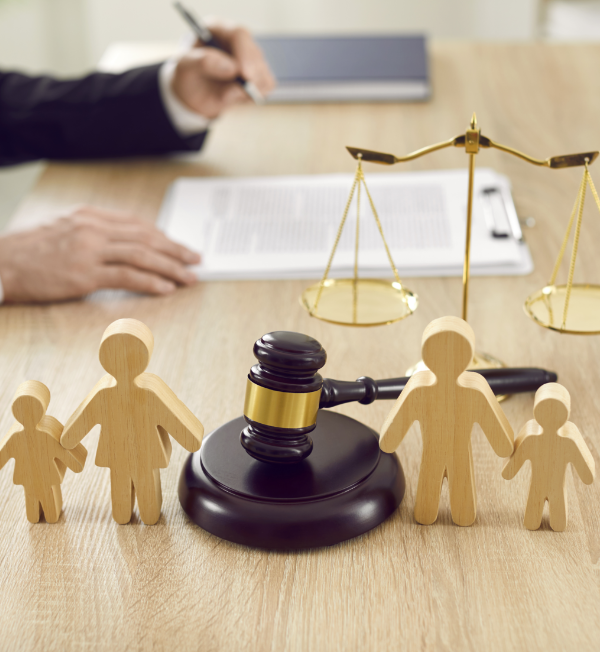 We Are Ready To Help. Talk To Us Today.